KILL SCRIPT stopped by to discuss his GALACTIC RAVE EP, the story behind its music and visuals, and upcoming Halloween performances.
---
If you haven't heard of KILL SCRIPT however, it's time to get to know each other. This up-and-coming artist is quickly making waves on the scene as he brings the sound of the underground to mainstream stages across the country. Go on stage at EDC Las Vegas, EDC Orlando, Electric Zooand Earthquake Dance Event, to name a few, KILL SCRIPT's thumping techno captured the hearts and souls of crowds as they lost themselves in its melody-laden soundscapes.
Beyond their performances, KILL SCRIPT have been on fire with their releases lately, dropping cutting-edge tracks to usher in the next wave of techno. His last single "FREE SPACE", has just closed the trilogy of pieces found on the GALACTIC RAVE PE. This aggressive, punchy track inspires listeners to look inside their own minds, get lost in thought, and get lost in the beat. What makes KILL SCRIPT unique is its seamless integration of sci-fi elements with harsh, euphoric techno, a phenomenon that can both be heard and seen through the futuristic and dystopian visuals that accompany it.
With performance on the horizon to support REZZ at Red Rocks and Escape Halloweenfrom the main stage, we jumped at the chance to catch up with KILL SCRIPT before the madness ensued. To listen GALACTIC RAVE on Spotify or your favorite platform, keep reading to learn more about his shows, upcoming projects, and more, and be sure to let us know your thoughts on Twitter!
Stream KILL SCRIPT – GALACTIC RAVE on Spotify:
---
Hey KILL SCRIPT, thank you so much for chatting with us! You had a phenomenal first year performing in 2021 at festivals like EDC Orlando and EDC Las Vegas, as well as clubs like Echostage. How do you adapt your sets to those on massive festival stages versus more intimate venues?
Sure. The past two years have been incredibly rewarding. Festivals and club shows, each one has been unique, and the fan response always makes me so happy. Every set is different, of course, but I think it all depends on the venue/mood. At festivals, I try to get a lot of remixes/edits that people know; in the clubs, I tear it up as I see fit. [Laughs]
You just played Treehouse Miami, which was also your first time in Miami. The energy in the room looked so electric from what we could see on social media. Did you approach this set differently than other sets?
Yeah, Miami was so good. I couldn't be happier with how my debut there went. The room had such crazy energy that I didn't expect it, and it gave me more confidence throughout the set. I can't wait to be back. Miami is so special.
Are you ready to play upcoming shows over Halloween weekend, opening for REZZ with red rocks and another at Escape Halloween on the main stage. What can fans expect from these spooky performances?
Red Rocks has been one of my lifelong goals, and playing it with REZZ Halloween weekend is just surreal. I'm doing something very special for REZZ ROCKS that I've never done before, which is a NEW KILL SCRIPT ID SET. I thought it would be fun just to play my music and unreleased edits to my first red rocks cause why not. Escape Halloween is a bit of an extended set as the festival sets unfold, so we're sure to go down the rabbit hole.
Congratulations on the release of your GALACTIC RAVE EP! You recently said that "EMPTY SPACE" is a track that "plays on the idea of ​​being lost in your thoughts" and "makes the listener think about their own empty space." Did you channel your empty space when you created this track? What did this empty space look like to you?
"FREE SPACE" is certainly special. Living in my hometown with very few friends and interactions, I find myself contemplating a lot of what isn't there. Locking myself away in my studio for the past two years has been so good, but it's also been pretty lonely at times, so 'Empty Space' was definitely a toast to those lonely nights where I was lost in thought and felt lonely .
KILL SCRIPT is not only an audio experience but also a visual one. We've seen it in-game through the cinematic visuals posted on your social media. Will we ever discover the whole story behind KILL SCRIPT?
From day one, I wanted KILL SCRIPT to be almost more about the story and visuals than the music itself. My idea is/was that people make soundtracks for movies, but why not make movies on a soundtrack? With my enormous love of science fiction and futurism, I built it from the ground up to tell my story. For each release, I treat the entire work as a chapter in history. We're definitely only starting on the story level, but I'm looking forward to building on that more and more as the project develops.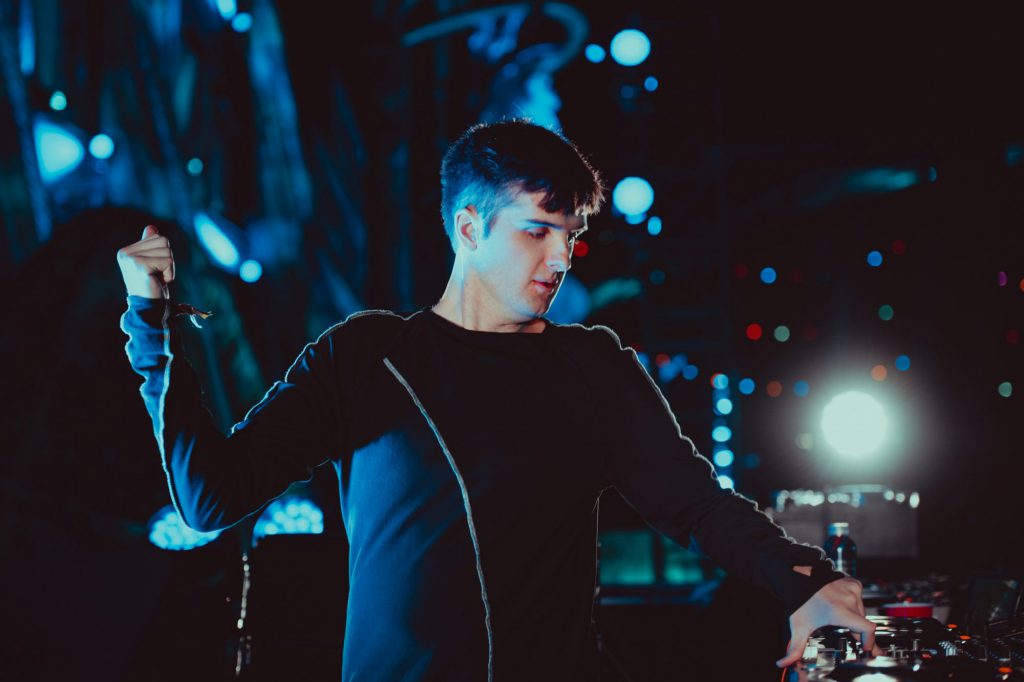 Those who follow you on social media know that you have spent a lot of time building your own studio. What inspired you to do this? Do you find inspiration and motivation knowing that you built this creative space yourself?
[Laughs] Yeah, that was my pandemic project other than building KILL SCRIPT. It all happened because I moved due to Covid and went from a decent sized apartment in Los Angeles to a 9×9 foot room in my parents house. I wanted a separate space to grow and lock myself in and get away from my family when I needed it.
I started researching how to build a home studio + how to build an accessory building. There was a lot of blood, sweat and tears going into this building, but it was so worth it, I feel like I could really build anything at this point now. My dad and I spent nine months on it, and it's crazy to call it my creative space now. It's really inspiring to be in there.
Okay, last question here. Just for fun, do you have any pre-show rituals to do before hitting the decks?
I don't have any specific pre-show rituals yet, but if I were to come up with one it would probably be pouring a Red Bull tequila and jumping in place a few times, maybe a scream here and there and then puffing up and being ready to go up there. Also, my manager Halil jokingly says, "don't shit" before every set, which I think I internalize and add to my ritual! [Laughs]
---
Follow KILL SCRIPT on social media:
Facebook | Twitter | Instagram | SoundCloud